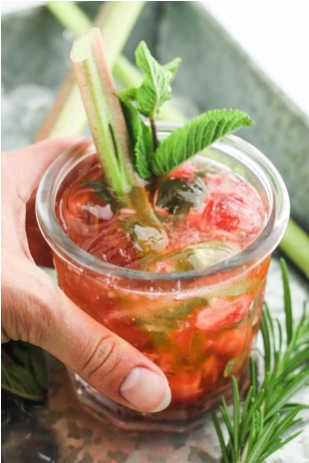 INGREDIENTS
Rhubarb Simple Syrup
4 cups chopped rhubarb
1 cup cane sugar
1 cup water
Cocktails
1 ounce Prairie Organic Gin
½ cup fresh strawberries
2 Tablespoons fresh mint leaves
½ cup club soda
½ ounce rhubarb simple syrup
INSTRUCTIONS
Rhubarb Simple Syrup
Clean and chop rhubarb stalks into ½″ chunks.
In a medium saucepan, combine chopped rhubarb, sugar, and water. Stir to combine. Bring to a boil and then decrease the heat to a low-medium simmer. Continue cooking for 40 minutes to 1 hour, until the mixture thickens.
Allow the rhubarb mixture to cool for 20 minutes.
Place a fine mesh strainer over a bowl, then pour the rhubarb mixture into the strainer. Once it has thoroughly cooled, it can be added to cocktails.
Strawberry Rhubarb Gin Smash
In an 8 ounce glass, add strawberries and mint. Gently muddle. Then pour in 1 ounce of rhubarb simple syrup. Add ice, gin, and soda water, then give it a quick stir.
Garnish with fresh mint, strawberry slices, rhubarb stalks, etc. And enjoy!