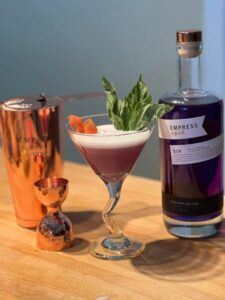 RUTH BASIL GINS-BURG
• 2 oz Empress 1908 Gin
• 1½ oz Fresh Grapefruit Juice
• ¾ oz Basil Grapefruit Syrup*
• ½ oz Egg White (or Aqua Faba)
Garnish: Basil Leaf
METHOD: Add ingredients to a shaker. Shake for 30 seconds. Add ice and shake for another 30 seconds. Strain into a chilled coupe glass. Garnish with a basil leaf.
BASIL & GRAPEFRUIT SYRUP
• ¾ cup Granulated Sugar
• ¾ cup Water
• 1 Whole Grapefruit Rind
• Fresh Basil Leaves
METHOD: Add sugar, water, and grapefruit rind to a small saucepan and bring to a boil until sugar has completely dissolved. Add a couple basil leaves and reduce to a simmer for 15 minutes. Remove from heat and strain into a glass container. Chill in the refrigerator for at least 15 minutes prior to use in cocktail.
Source: https://www.facebook.com/page/648426912014472/search/?q=ruth