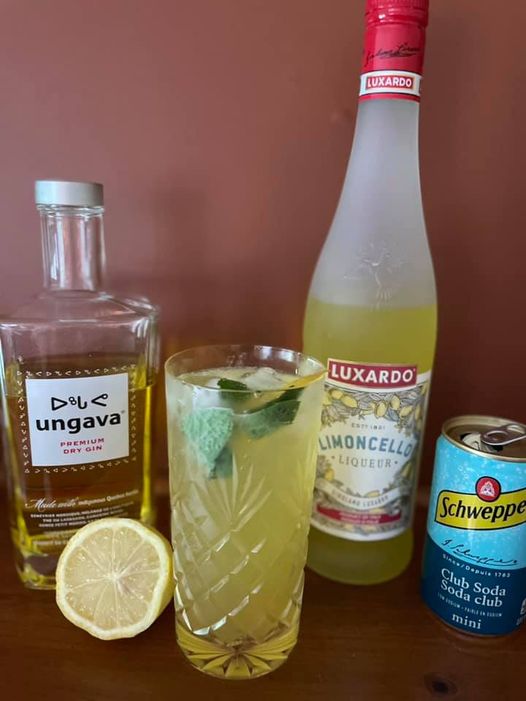 WHAT INGREDIENTS GO INTO THIS COCKTAIL?
Limoncello: You can pick some up at the liquor store OR you can make your own. I definitely recommend making my sous vide limoncello.
Gin: Use whatever gin you like.
Lemon juice: Freshly squeezed, please.
Mint simple syrup: For this, you'll start out by making some homemade simple syrup and finish it off by infusing some fresh mint into it.
Club soda: Regular old store bought club soda will do ya.
Garnishes: These are optional BUT highly recommended. Adding some lemon wheels and mint sprigs really gives this drink a little extra *something*.
HOW DOES THIS DRINK COME TOGETHER?
Start out by filling a Collins glass with ice. Yes, I know that the glasses in the pictures are stemless wine glasses. Our tall cocktail glasses recently broke in the dishwasher.
So I'm working with what I've got.
Add the limoncello, gin, lemon juice, and mint simple syrup to the glass. Top all of this with a bit of club soda.
Next, stir gently with a bar spoon. Garnishes are optional, but I think that this drink looks awfully pretty with a bit of fresh mint and a lemon wheel or two. Feel free to tuck those lemon wheels right down into the drink.
Source: https://anerdcooks.com/limoncello-gin-collins/?fbclid=IwAR3ZoQm6FaaupfuVFER-CJUPS-2Dp35bsxNXaG7VRUrre2M1KNLYWaGH0zA